Copper Gutter & Downspout Installation in Saint Paul, Minneapolis and throughout MN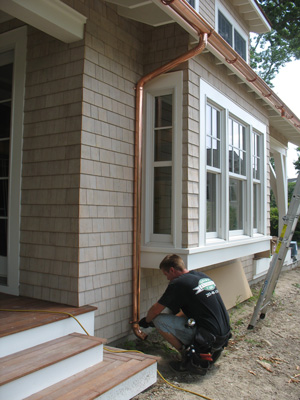 Premium product. Copper gutters can be painted or left to develop a blue-green patina. They are often installed on historic houses.
Improve the look of your home with copper gutters & downspouts
Homeowners who elect to have copper gutters and downspouts installed rarely regret this decision. Even though copper gutters and downspouts are much more expensive than seamless aluminum gutters or galvanized steel gutters, copper has some unique qualities that make it exceptional.
Much like seamless aluminum gutters, copper gutters are designed with a seamless appearance and have soldered joints to help prevent leaks.
At Sela Gutter Connection, our roofers are fully experienced in gutter replacement and seamless copper gutter installation, helping you to upgrade the exterior of your home and protect your roof against damage caused by ice damming and clogged gutters.
Contact us today to schedule an estimate for gutter installation in Saint Paul, Minneapolis, Plymouth and all surrounding cities and towns.
Copper Gutter Install
Sela Gutter Connection installing a copper gutter system. Read More
View More »
Benefits of copper gutters:
No painting, no corrosion. Copper gutters and downspouts won't ever rust or corrode. Instead, they weather naturally to a tawny brown patina.
Soldered joints. With other gutters, joints (at inside & outside corners) are sealed with special sealants that sometimes need to be renewed to prevent leaks. However, the joints in copper gutters are soldered together just like copper plumbing connections so you never need to worry about leaks.
Craftsmanship and quality. Copper gutters and downspouts definitely make a statement about craftsmanship and quality. Instead of blending into the roof structure like seamless aluminum gutters, copper gutters stand out, showing off their supports and their lovely patina.
Consider upgrading your gutters along with roof repair or replacement in Greater Minneapolis
Call us at 1-844-686-4457 or get an online quote for gutter installation in Eden Prairie, Minnetonka, Andover, New Hope, Lakeville, Shakopee, Burnsville, Champlin, Maple Grove, Stillwater, Bloomington, Cottage Grove and nearby areas in Minnesota. We are Greater Minneapolis' expert roofing contractor and gutter installation specialists, specializing in roof repair, roof replacement and many other roofing services.
Looking for a price? Get a no cost, no obligation free estimate.